Hydraulik cylinder EHZ
Hydraulik cylinder with simple outline.
The EHZ is a hydraulic cylinder, which can be operated at an operating pressure of up to 250 bar. The EHZ standard cylinder is characterised by good sealing properties and its small size.
Owing to its flexible design, the cylinder can be precisely adapted to your particular application.
Advantages:
operating pressure up to 250 bar,
compact and robust,
simple outer outline,
special designs according to the request of the customer.
For more information, please feel free to contact us at
info@uniteq.nl
.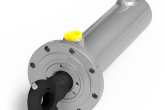 « Back to Eckart actuators
Eckart website
Visit the Eckart website for:
More information about Eckart,
Detailed specifications of the EHZ,
Additional functions,
Special designs,
Product applications,
Downloads.