Linear rotary actuator HSE4
Perfectly matched for accurate rotary-linear-movements.
The Eckart HSE4 rotary-linear-actuator is a combination of a rotary actuator and a dual-action linear cylinder. Consequently, with the HSE4, a rotary movement and and a linear movement can be executed in an extremely small space.
Since the rotary actuator and the linear cylinder are hydraulically driven separately, any movement sequences can be selected, such as rotaring to the left and right, linearly extending and retracting, etc. If both components are driven evenly, then both types of movement will be executed synchronously.
Advantages:
compact und robust,
wear resistant,
high efficient end cushioning,
angle adjustment ± 5°,
adjustable drive shaft datum.
For more information, please feel free to contact us at
info@uniteq.nl
.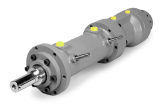 « Back to Eckart actuators
Eckart website
Visit the Eckart website for:
More information about Eckart,
Detailed specifications of the HSE4,
Additional functions,
Special designs,
Product applications,
Downloads.