Pneumatic actuator PSM2
Ultra-light rotary actuator.
The PSM2 is a pneumatic rotary actuator that works according to the principle of the dual curve-roller deflection, and is most suited to applications in small installation spaces and with low weight requirements.
Advantages:
angle of rotation up to 360° or more,
compact and robust,
wear resistant,
adjustable drive shaft datum,
compatible thread adapter,
angle adjustment ± 5°.
For more information, please feel free to contact us at info@uniteq.nl.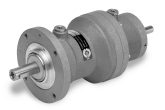 « Back to Eckart actuators
Eckart website
Visit the Eckart website for:
More information about Eckart,
Detailed specifications of the PSM2,
Additional functions,
Special designs,
Product applications,
Downloads.