Rotary actuator E1
The standard in low-pressure hydraulic systems.
The E1 rotary actuator is the latest rotary actuator in our product range. With regard to application, low-pressure hydraulic systems, with typical pressure ratings of 40, 60, 80 or 100 bar, are of relevance here.
The E1 functions according to the "helical gear" principle and, due to its compact design, only requires a minimum amount of space. The diverse options offer a maximum degree of flexibility and functionality. With the E1, Eckart offers you a high-performance series, allowing optimal adaptation to your particular requirements.
Advantages:
operating pressure up to100 bar ,
smallest installation dimensions,
ultracompact and robust,
wear resistant,
effective end cushioning,
adjustable drive shaft datum.
For more information, please feel free to contact us at info@uniteq.nl.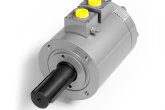 « Back to Eckart actuators
Eckart website
Visit the Eckart website for:
More information about Eckart,
Detailed specifications of the E1,
Additional functions,
Special designs,
Product applications,
Downloads.