Rotary actuator E3
The expert for the mobile application.
The E3 is a hydraulic rotary actuator that has been especially designed for mobile applications. This rotary actuator functions according to the "helical gear" principle and, due to its compact design, only requires a minimum amount of space.
As far as the dimensions are concerned, the Eckart E3 is identical in form to the products of its competitors. The Eckart E3 rotary actuator has unique selling points, however, which can offer decisive advantages during its application: firstly, the deflection threads are paired with virtually no play; secondly, the roller bearing is fitted so that there is no play; and thirdly, no compact seals which can be subjected to stress on both sides are used. Consequently, there is no more "wobbling", such as of the work platform, when a lateral movement is made.
Advantages:
ultra compact,
robust construction,
high bearing charge,
double shaft-and piston-sealing (lip seal),
exact, almost free from backlash positioning,
wear resistant,
continuous shaft hole.
For more information, please feel free to contact us at info@uniteq.nl.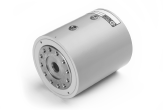 « Back to Eckart actuators
Eckart website
Visit the Eckart website for:
More information about Eckart,
Detailed specifications of the E3,
Additional functions,
Special designs,
Product applications,
Downloads.