Valve actuator HyRAV
Reliable even under extreme conditions.
The HyRAV rotary actuators form a complete series of dual-action or spring-return rotary units which work according to the helical gear principle.
Reliable even under extreme conditions.
The compact and concentric fitting on the valve has proven to be effective in practice and the unit is both space-saving and reliable. This series can be deployed in the most difficult conditions, from heavy vibrations to adverse ambient conditions, and offer a powerful and safe solution for valve control.
Due to the spacious, hollow shaft design and customisable flanges, the series can be adapted to each valve type.
Advantages:
small dimensions,
slim and compact style,
durable against vibrations,
easy installation and adjustment to each valve,
robust against extreme environmental conditions,
concentric design protects the valve and the spindle,
no lubrication required, because all moving parts of the actuator are permanent in the oil bath,
ISO5211 or ANSI flange,
ATEX and SIL.
For more information, please feel free to contact us at info@uniteq.nl.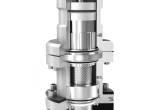 « Back to Eckart actuators
Eckart website
Visit the Eckart website for:
More information about Eckart,
Detailed specifications of the HyRAV,
Additional functions,
Special designs,
Product applications,
Downloads.