Turbine SKID
Over the years UniteQ has been active in different areas of the turbine industries, for instance the production of turbine valve actuating systems. This connection in combination with our experience in designing and manufacturing hydraulic systems has led to several requests to overhaul a turbine SKID.
UniteQ has the knowledge and experience to completely overhaul a turbine SKID. We can overhaul the complete hydraulic system, including motor pump combinations, manifolds, solenoid valves, filters and tubing. Furthermore, mechanical adjustments such as cleaning, isolating and conserving the system are performed in house. When the overhaul has been finalized, each individual component and the complete turbine SKID system will be tested. In addition, we are always willing to unburden our customer by taking over the responsibility for the project management.
For more information, please feel free to contact us at info@uniteq.nl.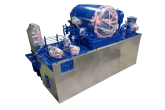 « Back to products